Words of wisdom go a long way. For me, they have an impact on my growth and learnings as a human being. Whether being exposed to knowledge from business co-workers or from spiritual, new-thought leaders, I've considered each opportunity as another way to expand my horizons.
Some pearls of wisdom have their genesis born in childhood, such as a poem my fifth grade teacher gave (glued atop green construction paper) to her students as we received our final report cards in 1973. Last week, a friend, whom I've known since kindergarten, and I reflected on her prose (he knew it by heart, line-by-line) and how it inspired us to pursue our interests. Here's the poem (albeit, the green construction paper now somewhat faded), which I've had posted to my office and home bulletin boards for several decades.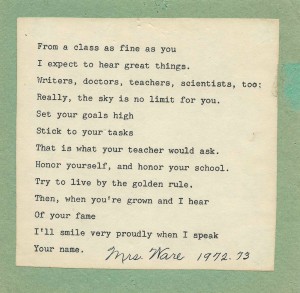 More than 40 years later, this educator's thoughts still resonate with me, perhaps stronger than ever. When I made the decision to switch careers to become a psychic medium after 25-plus years in corporate America, I remembered this poem and its positive influence.
I'd say, fifth grade was a pretty good year.
Love and light,
Tony